A late-summer visit in Pyli's Little Gorge, in Trikala, with geobotanist Dr. Dimitris Samaras, lead to a quick (non-scientific and informal) sampling of the vegetation apparent along the path towards the climbing walls.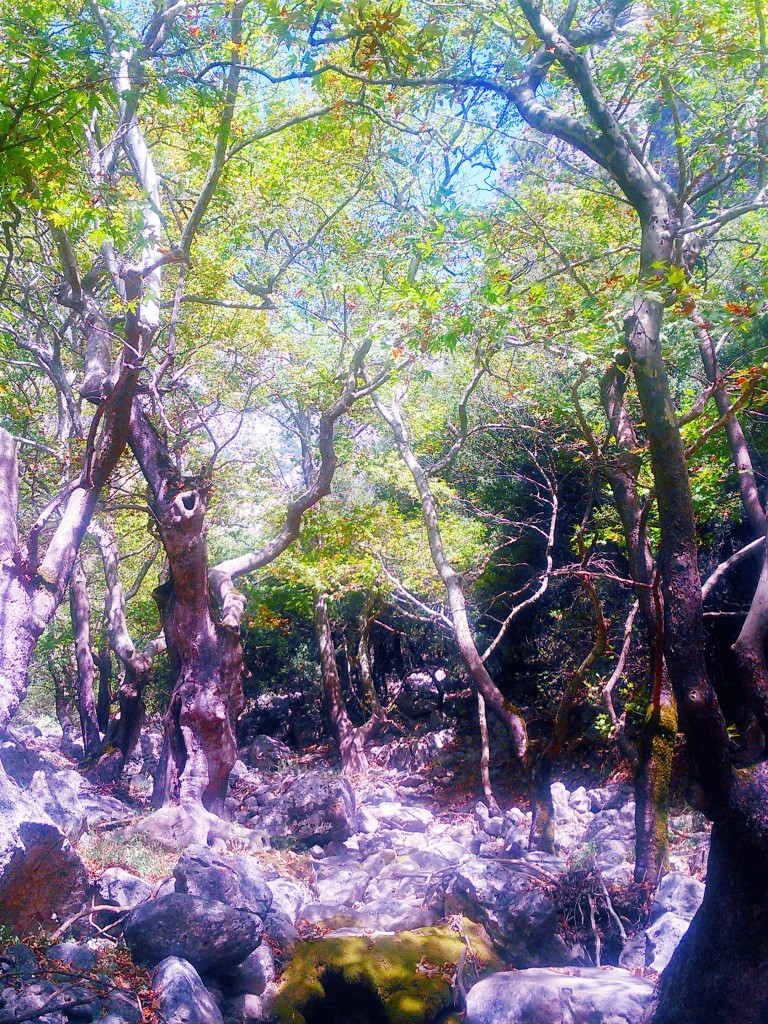 The plants recognised are listed below (a list along with scientific names is in the end of this post).
Planetree, Kermes Oak, Rubus, Old man's beard (Traveller's Joy), Chaste Tree, Peppermint, Garden Horehound, Tree of Heaven, Oriental Hornbeam, Ivy, Butcher's Broom, Green Olive Tree, Flowering Ash, Bastard-agrimony, False brome, Cock's-Foot, Sharp-Awned Feathergrass, Viola, European Nettle Tree, Cyclamen, Oregano, Wall Lettuce, Black Bryony, Venus Hair Fern, Jerusalem Sage, Pellitory of the Wall.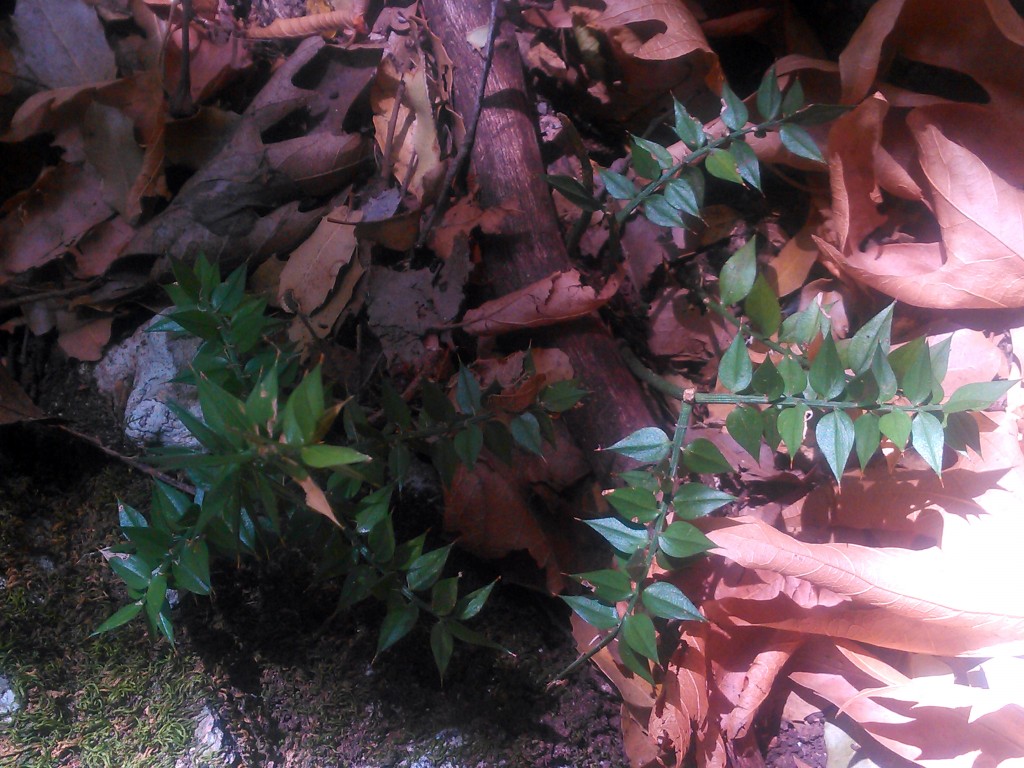 The real list is undoubtedly larger. The rich(est) composition of the Greek flora is an amazing experience to see, to smell, to taste and, often, to use for healing. Protect and Enjoy
A few photos
Map
Where is it? Little Gorge, Pyli, Trikala (PDF file sans orthophoto background)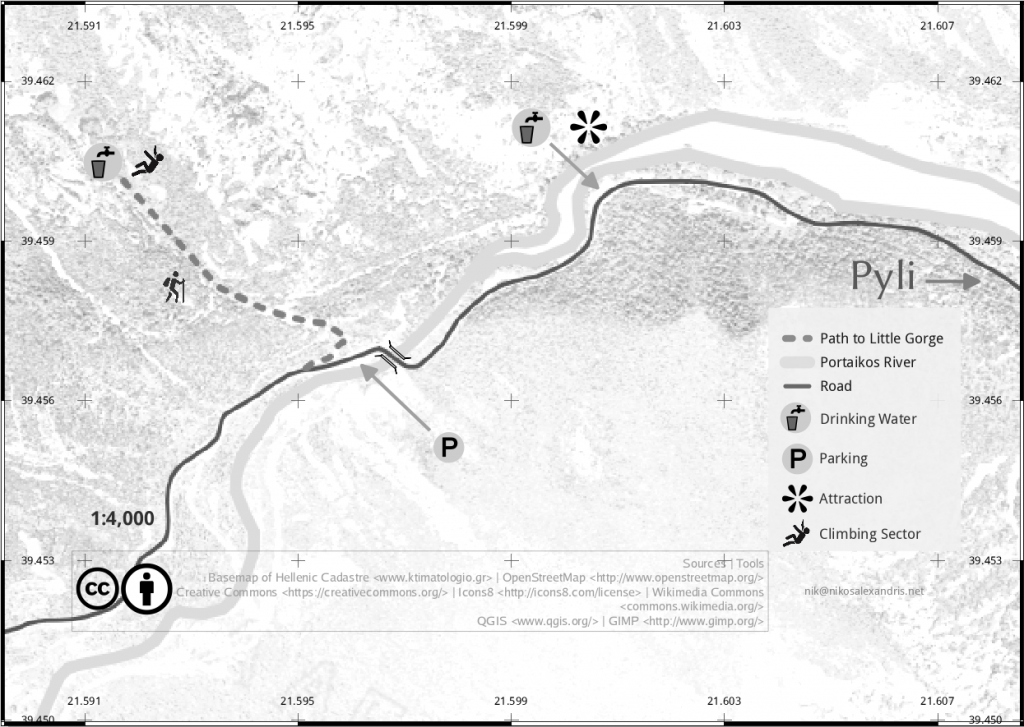 Links
References
Used the Basemap of Hellenic Cadastre <www.ktimatologio.gr> as a delineation reference
The map includes Road and River features sourced from www.openstreetmap.org, available under ODbL.
Icons reused from: Icons8 <icons8.com/license> | Wikimedia Commons <commons.wikimedia.org/> | Creative Commons <creativecommons.org/>
Created using GRASS-GIS <grass.osgeo.org/> | QGIS <www.qgis.org/> | GIMP <www.gimp.org/>
Notes
Published screenshot of map in this post contains a small fragment from Basemap of Hellenic Cadastre. The pdf file linked above is without this background.

Still ToDo:

Apply some corrections to the csv file.
Add more photos?
---
Κοινή Ονομασία, Common Name, Genus species, Οικολογική μορφή, Σημειώσεις

Πλάτανος, Planetree, Platanus orientalis L., Δέντρο, NA
Πουρνάρι, Kermes Oak, Quercus coccifera L., Δέντρο ή Θάμνος, NA
Βάτο, Rubus, Rubus sp., Θάμνος, NA
Κληματσίδα, Old man's beard or Traveller's Joy, Clematis vitalba L., Αναρριχώμενο Φυτό, NA
Λυγαριά, Chaste Tree, Vitex agnus-castus L., Θάμνος, NA
Άγριος δυόσμος, Peppermint, Mentha sp., Πολυετής Πόα, NA
Λυχναράκι, Garden Horehound, Balotta acetabulosa (L.) Benth., Πολυετής Πόα, NA
Βρωμοκαρυδιά ή Βρωμούσα, Tree of Heaven, Ailanthus altissima (Mill.) Swingle, Δέντρο, NA
Γαύρος, Oriental Hornbeam, Carpinus orientalis Mill., Δέντρο, αρχή 1ου σκιερού μέρους μονοπατιού

Κισσός, Ivy, Hedera helix, Αναρριχώμενο Φυτό, NA
Λαγομηλιά, Butcher's Broom, Ruscus aculeatus L., Θάμνος, Kαρποί πάνω στα φύλλα, που είναι μεταμορφωμένοι βλαστοί
Φιλλύκι, Green Olive Tree, Phillyrea latifolia L., Δέντρο ή Θάμνος, NA
Φράξος, Flowering Ash, Fraxinus ornus L., Δέντρο, NA
Αρεμονία η αγριμονοειδής, Bastard-agrimony, Aremonia agrimonoides (L.) DC., Πολυετής Πόα, NA
NA, False brome, Brachypodium sylvaticum (Huds.) P. Beauv.., Αγρωστώδες, NA
NA, Cock's-Foot, Dactylis glomerata L., Αγρωστώδες, NA
NA, Sharp-Awned Feathergrass, Achnatherum bromoides (L.) P. Beauv., Πολυετής Πόα, NA
Βιόλα, Viola, Viola sp., Πολυετής Πόα, NA
Μελικουκκιά, European Nettle Tree, Celtis australis L., Δέντρο, NA
Γαλατσίδα, ?, Euphorbia sp., Πολυετής Πόα, NA
Κυκλάμινο, Cyclamen, Cyclamen sp., Πολυετής Πόα, Βολβοί κυκλαμίνου

Ρίγανη, Oregano, Origanum vulgare L., Πολυετής Πόα, Κοντά στην Ιοκάστεια Ορρωδία
NA, Wall Lettuce, Lactuca muralis (L.) Gaertn., Πολυετής Πόα, Compositae, μικρό, κίτρινο άνθος
Καμπανούλα, ΝΑ, Campanula versicolor Andrews, Πολυετής Πόα, NA
Αβρωνιά, Black Bryony, Dioscorea communis (L.) Caddick & Wilkin, Αναρριχώμενο Φυτό, NA
Αδίαντο ή Πολυτρίχι, Venus Hair Fern, Adiantum capillus-veneris L., Πολυετής Πόα, NA
Ασπλήνιο το τριχομανές, Maidenhair Spleenwort, Asplenium trichomanes L., Πολυετής Πόα, NA
Ασφάκα, Jerusalem Sage, Phlomis fruticosa L., Θάμνος, NA
Καπουτσίνος, NA, Consolida sp., Πολυετής Πόα, NA
NA, Pellitory of the Wall, Parietaria sp., Πολυετής Πόα, NA
NA, Carline Thistle, Carlina sp., Πολυετής Πόα, NA